Happy to start the Review on the "Ironman Draw System" as it's now been in the Paj since September & been loaded with my recovery gear, 1st Aide kit, spares & tools.. It's also had a full load stacked on top inc. the Engle on the MSA Drop Slide.. Fully loaded with Drink & food stuff of course
The Draw800 is the size suited to NM-NW Paj with Wing Kits available for different models.
Have your tools ready as the Draws are in a flat pack & must be assembled, Ironman supply great instructions & a video is available to download on line as well.
For your information:
Australian Made
Fully Crash Tested
Complies to ADR
Child restraint approved
*
Steel Roller Bearing Slides
*
150kgs load rating per draw
*
Lockable draws
*
Galvanised steel frame & draws
*
UV stabilized commercial grade carpet
*
Cross folded construction of draw floors
*Note: I modified the fitting to suit the full cargo Barrier & also spaced the frame from floor at front which allowed me to leave in the custom false floor. I also modified the Draw slide stops so I can remove the draws to get under the floor where I keep spares
.
Shot of the Frame going in after assemble: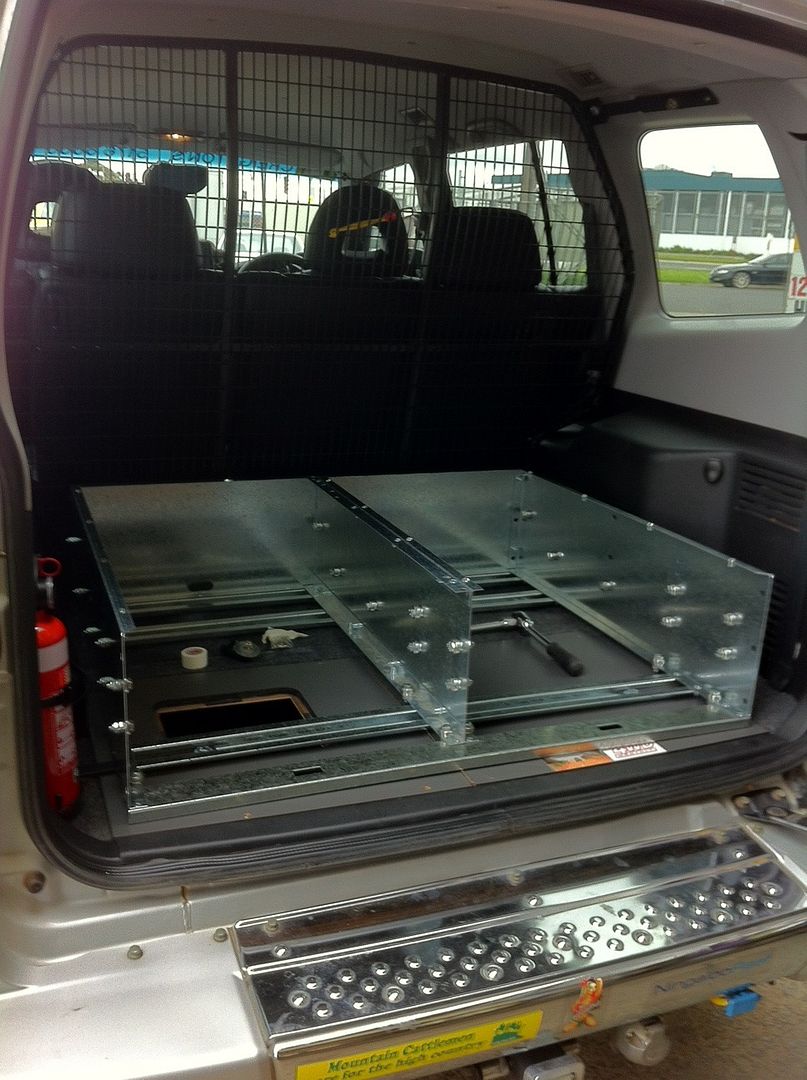 The wing Kits go in next:
Then the draws & bolt the tops on:
Note: You will notice Tie downs in the below pic I added these.. Not included with draws.
And the finished job with the MSA Drop Slide & Engle mounted:
[IMG]http://i250.photobucket.com/albums/gg270/gusvin/photo_zps3c65ca48.jpg[~original/IMG]
Bribie Island:
IMG_3476
by
gus_paj
, on Flickr
Very happy to say the Draws are excellent quality, solid no sideways movement at all. I've lined the draws with thin rubber using double sided tape to stop rattles from spares & the like which has proved the way to go no unwanted rattles! Which has worked well even when bouncing along the inland track on Bribie Island
. As I said I use the under floor for spares & stuff that are rarely needed.. But I was nicely surprised to find that all the stuff that I use to have in the Old custom Draws plus all the recovery gear & my tools which were under the false floor all easily fitted into the draws Plus more the long handled shovel, (2 piece), which was tied to the frame of the old draw system also easily fitted in! So big improvement plus now I can fit a lot more in on top of them too.
So if your looking for a Draw system the Ironman get a big 9 out of 10 from me! 9 you say well yea I had to buy rubber to line the draws & also modify the Draw stops to allow them to come out to get under the floor yes easy done but wouldn't cost much to include either!
Great news too
Creightons TJM
, (Commercial Advertiser), have *special prices for Pajero Club & Public forum members inc these Ironman Draws!
*Inc. other makes & models
Gus.