Hi people,
I'm no stranger to these forums in a way, long time visitor however I only just registered. Love the forum here, lots of useful information, and of course people.
MRX78U - Don't ask... My real name is Michael, i'm currently living in the hills, sydney. I'm a security engineer, motorcyclist, rock climber and so on... Won't bore you to death with information about me anyway. Below are the details of my little paj. (My weekday car is a 07 nissan x-trail btw)
I purchased this vehicle for about $4k a few years back, mainly to fill the gaps until I got the company vehicle with my new job, and also a bit of off roading.
Anyway, got the company vehicle, and the Paj sat around for a while not being driven. Anyway, possibly out of the need to have a project of some sort, I decided to see if I could get a bit better fuel economy out of it, it also had a massive flat spot that I put down to it having a very old and probably worn out carburettor.
I toyed with the idea of installing a 32/36 weber, and actually bought one. While trying to get information on jet sizes and adaptor plates for the weber, I discovered that the magna 2.6 efi gear, with some work would actually fit on the pajero engine.
However despite finding a few people who had done this project, I couldn't find any of the little details required to complete the project. Eg: Wiring, ECU information, fuel system and so on. I guessed the work would take me a few weeks of weekend work, of course it took months between other things, but I got there in the end. I also tried to document every step of the way so that others wouldn't run into the same issue as myself.
I since changed jobs again and no longer have a company car, so I bought a new nissan xtrail, great work vehicle and good for camping weekends with some
light
off roading. (Goes places even the company falcon would not
)
Anyway, here it is.
1988 Pajero NE SWB
2.6L EFI engine
TR magna EFI system, modified to suit the paj's engine configuration
Facet lift pump to Surge tank to VL turbo fuel pump
Twin electric thermo fans
2.25" Exhaust system with extractors (modified to take EGO sensor)
15x7" king wheels
31x10" Simex AT300 tyres
27mhz uniden CB
Pioneer CD player
100w Driving lights
(I think) old ARB steel bullbar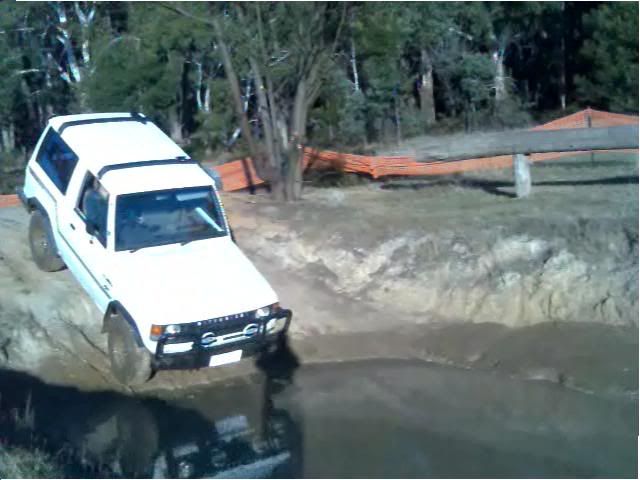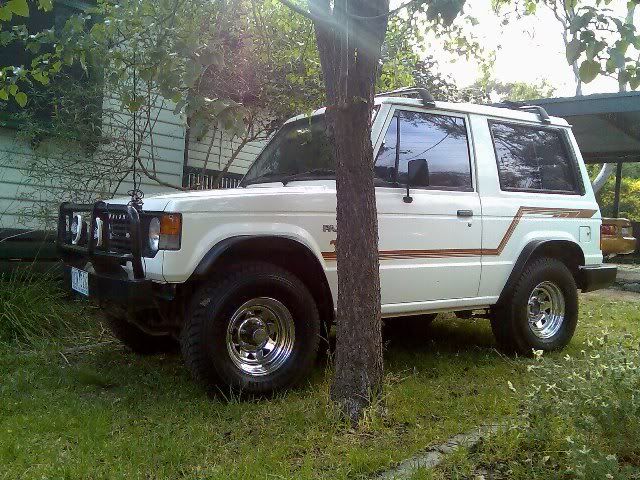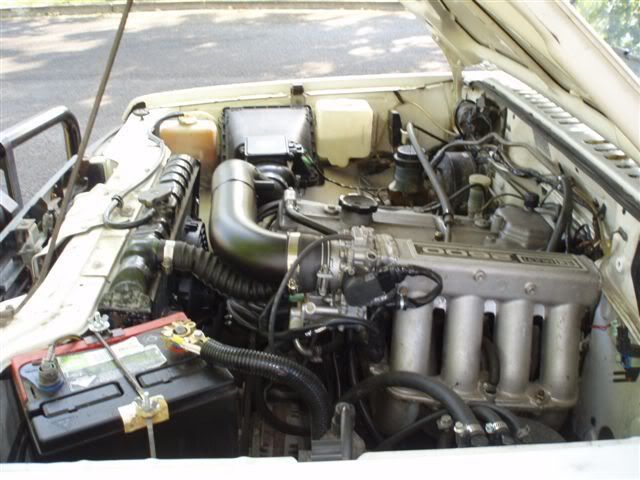 Not too exciting, but hopefully of interest to someone.
P.S. If anyone is interested in the EFI build up, the whole thing is detailed here;
http://www.sigma-galant.com/modules....ewtopic&t=1168
It was written like a diary, so there's alot of junk in there with the information.
Cheers,
Michael.