Just about everyone has at least one. I'm talking about the little portable cooker than runs on the Butane cans . They come in their own little case and take up bugger all room in the fourby. So besides making sure the cooker you buy, or the one you have now has the Australian Gas Association sticker approval number on it you should be honky dory.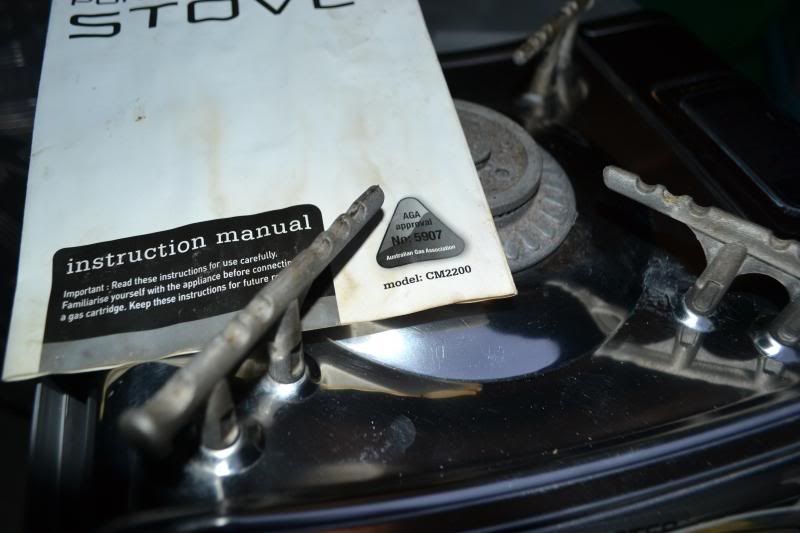 Well that is partially right!. Have you ever thought about those Butane cartridges that feed them? Sure they all look the same but are they really? Anyway I delved into it and found some interesting safety aspects of these cans along the way whilst testing them. I will get to that further in but what I wanted to do was get an idea of if there was really any difference between the brands. A bit of research told me the proportion of Butane and Propane in these cans vary with mostly 85% being Butane (Iso Butane) and the remainder being Propane. Propane in these being the better gas as it will burn hotter and is not affected from the cold as much as Butane. And although these gases are combined we find that the Propane will burn out of them first leaving just the Butane . That explains why at lower temperatures the flame on your cooker will gradually reduce even though the can still has plenty in it. The portion of Propane in the can will burn off first.
Now I wanted to find out if these different brands of Butane cans all had the same proportion mix of Butane/Propane . Generally as a guideline the spec sheet I did get from Gasmate was the one suggesting the 85% / 15% mix but I believe that was only for that particular brand.
So I went and chased up six different brands of these Butane cans to put to the test. I wanted some that hadn't been sitting on the shelf for a while so purchased at high turnover shops where sales of them would be consistant.
Now with six different Butane cans and a 24 pack of 375ml bottles of water we were ready to do some testing.
How it was done
The testing criteria for these cans were the same throughout and taking about three hours to complete. All cans were weighed at start and finish on digital scales. Electronic timer was used for each boiling session. Temperature was a consistent 16.c throughout.
A pot of about 2 ltr capacity with two bottles of 375ml tipped in to make 750ml. A piece of flat aluminium angle placed on top of the pot across the rim with a hole drilled in it for temp probe. Probe sat in approximately 40mm of water . Can weighed with cap on then installed and timer set on ignition of burner. All cans timed to boiling point of 100 celcius. Can then pulled out then weighed again with cap on.
With the test results on paper we can see the weights of the cans are all over the shop with up to 5 grams difference between them. I wouldn't imagine the weights of the cans would be the factor here so can only suggest the amount of gas in them does vary. ( Note two cans were not CRV type )
Brand

cost per cylinder

start weigh t

finish weight

time to boil

Purchased
Progaz

N/A

323 g

300g

7.33

N/A


Wild Country

$2.15

328g

304g

8.05

Rays Tent City


ISO

97c

326g

303g

8.10

Supercheap


Gasmate

96c

323g

305g

9.10

Bunnings


Primus/companion

$1.98

324g

297g

9.20

Rays Tent City


Campers Collection

N/A

325g

298g

9.50

N/A

A winner
Time difference of 2 minutes 17 seconds between testing of the six cans suggests to me the varience in Propane proportions is noticeable in the boiling times. The Progaz went straight to boil (100c) whereas some of the others tended to hang around the 90c mark a bit longer before reaching our target. Also noted is in each case around 23 – 28 grams was used to boil the water and really is a good indicator of how many cuppa's we will get out of a can . I think if you work on around 8 boil times per can that should cover you.
Is there a clear winner here? Yes but not so much in the sense that the testing of cans gave us different results but more so the discovery of the safety aspects of the Butane cans themselves. When we look at the test results it tells us the Progaz was clearly a winner. I had this can in my garage for a while and whilst looking through retail stores to purchase again they were nowhere to be found. I think by memory it was purchased at Supercheap but are now replaced by the ISO brand. Most certainly the same people distribute both ISO and Progaz to Supercheap.
The second placegetter in the Wild Country brand was purchased at Rays Tent City. In a pack of six for $12.95 ( $2.15 per can) they did not represent value at well over double the price of some of the other brands.
Third placegetter was the ISO brand from Supercheap and I believe Masters hardware stores stock these as well (Two of the Masters stores I visited were out of stock of these when comparing prices). Although performing reasonably well these cans are CRV approved and basically near the cheapest out there.
Fourth placegetter was the Gasmate. Reasonable in the time it took and the cheapest out there. Purchased from Bunnings they are not CRV approved containers and should be banned from selling to the general public.
Fifth was the Companion/Primus purchased from Rays Tent City and another that was overpriced for the performance. At $1.98 per can it doesn't represent any value for us happy campers and another non CRV container used..
Last was the Campers Collection. Taking the most time and near most amount of gas it really doesn't rate any mention of value.
Well with the Progaz brand not being found anymore and the second placegetter Wild Country being twice the price of of the ISO brands third placegetter I am declaring the ISO brand to be the better value here. In a CRV approved container and with a price around 97 cents per can they are a reasonable performer and represent great value.
The Safety Aspect
Some aspects of this report you might notice I mention CRV pertaining to the Butane containers.
CRV is abbreviated for Countersink Release Vent. Recently a company in Korea invented this safety can for the application of use with these Butane cans. Basically what they will do is vent the gas through perforations in built around the rim of the can when extreme heat or pressure is too much and the gas needs to escape. Non CRV cans will simply explode with damaging results.
http://www.youtube.com/watch?v=rVwOrk1vl5Y
To tell the difference between the non CRV and approved CRV cans is easy. CRV approved cans will have the certification marked on the can and packaging. Also just to confirm look at the outer rim on the top of the can. They have a light blue tinge and you will notice the small perforations where they will vent under pressure. Non CRV approved cans will just have a plain outer rim and no markings on the cans. Noticibly two of the cans tested were not in CRV approved containers. A worrying aspect as one being the popular Gasmate brand in the green can sold through Bunnings and the other the Companion /Primus through Rays Tent city. What you will notice is these are from China and not from Korea. Most of these cans have warnings of storage above the temperature of above 50 celcius. You can imagine how hot it can get in your vehicle in summer and storage of these in vehicles of these non CRV approved cans can be a bomb waiting to go off. I believe the non CRV approved cans should be banned from sale in Australia period!
All cans should also have the compliance of UL147B and/or EN417 clearly marked on the can for the sale of these in Australia as well. All the cans I tested have them but it pays just to glance over them to make sure they are on the brand you buy.
So there you have it. The winner here I believe is the ISO blue tainted Butane can. Just a bit cheaper than a buck a pop and reasonable performance from the CRV approved container.
Dave Howard
Technical Officer
Pajero 4WD Club of Vic