Hey all,
Thought I'd chronicle the buildup of my NW. Will keep adding to this thread as more stuff gets around to being done.
At this early stage the plan is to have it built up as a 'tough tourer' as 4WD action would put it. That is, comfortable enough to drive long distance and live out of for long trips but capable enough for most weekend runs.
----------------------------------------------------------------
Currently fitted (click the links to jump to that post):
- Mickey Thompson STZs 265/65R17 (stock size)
- MM Towbar
-
Scangauge II
-
EGR Modification from SPV Industries
-
Intercooler, Sump, Transmission and Transfer Bash Plates from Bushskinz 4x4
-
RAM Mounts
-
Opposite Lock Premium Post Bar (Black)
-
Dual Batteries (CTEK CTD250S)
-
Roof Racks (Rhino Track Mounts with 3x Rhino HD Crossbars)
-
ARB Side Awning (2.5M)
currently removed
-
ARB Simpson Roof Top Tent
removed
-
Modified traction control to still work with the factory rear locker engaged
-
Icom IC-400PRO UHF w/ RFI CDQ5000 antenna (5dB)
-
TJM Airtec Snorkel
-
Ultimate Suspension 50mm lift. Twin tube Aussie Ryder Shocks/struts and Lovells HD springs
-
Roleys Rear Bar Protector
-
Insect Protection
-
Tyredog TD2000A
-
Autosafe Half Cargo Barrier (with fitment instructions in post)
-
Custom Drifta Vertical Drawer System with Fridge Box and ARB 47L Fridge/Freezer
-
Dirty Gear/Rubbish saddle bags for the spare wheel carrier
-
Winch
-
Compressor Mounted
-
Optima D34 Yellow Top Battery Fitted
On Order
Wishlist/future:
- Driving lights/light bar
- Extended Breathers
- Rock Sliders/Heavy Duty Steps
- Larger tyres (won't be for a while)
- Long range fuel tank (once the wife has to smell diesel in the cab it'll happen
)
- Rear Bar (probably will never happen)
----------------------------------------------------------------
Here it is at the dealership, just after I first laid eyes on it (can you tell I'm chuffed?). Had it delivered with the STZs, towbar and weather shields as well as electronic rust protection (fitted as part of a protection package, didn't even know it was being fitted until I took delivery).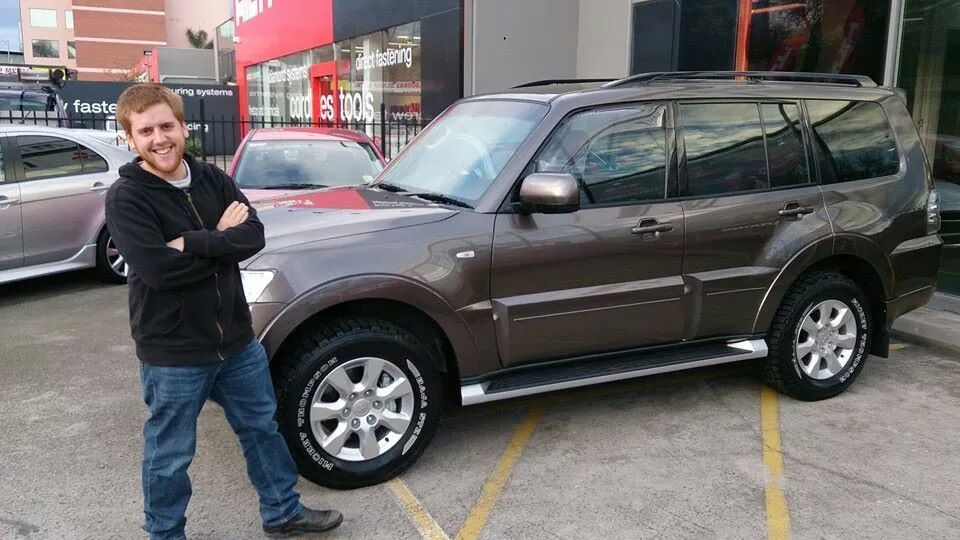 After bringing it home, did a side by side with my old NL (must admit was nice having two pajeros!).