Everything is a compromise!
That's how I looked at this project when considering an intercooler upgrade on my NW Pajero. The idea to put a bigger & more efficient intercooler came about when I was towing my 2+ tonne boat up the South Eastern Freeway (in SA) on a relatively mild 26C day, and at the top of the hill I looked at my scangauge and saw that the inlet temps were at 116C!
The factory tube and fin intercooler is relatively small and is poorly located. Although it's considered a front mounted intercooler it is mounted well back from the front of the car and clean / cool airflow is obstructed and limited by the position of the front sway bar. Fitting a heavier intercooler guard (as I had) further exacerbates the problems as the heavy 3mm steel plate soaks up heat and radiates it back into the intercooler. This becomes obvious when driving then coming to a stop (say at a set of lights) and you can see the inlet temps increasing, even when at idle.
For general driving and not under load the intercooler can cope and return reasonable inlet temps. But go up a hill or tow and the inlet temps rapidly increase. I do a lot of towing so after seeing how high the inlet temps could climb on a 26C day, I can only imagine what they would be like on a really hot day!
Without going through every single gory detail and consideration I did look at numerous intercooling options – each had it pro's and cons'.
• Front mounted intercooler in front of radiator
• Top mounted intercooler
• Water to air intercooler
• Partial front mount / low mounted
Front mounted intercooler in the area in front of the radiator
– One of my major concerns with mounting an intercooler in the area directly in front of the radiator was whether this would have a negative effect on the coolant temps. I've already seen via the scangauge water temps above 100C when towing, and on my previous NP Pajero I began having issues with overheating near the end of my ownership, so wasn't keen on going there again. I know in previous threads others don't believe there is an issue with the cooling systems on the Gen 4's, but my own experience tells me the factory set up is just adequate and really pushed when towing heavy loads or towing in hot weather.
Before looking at upgrading the intercooler I did investigate upgrading the radiator to something larger. No-one in Oz does an off the shelf larger radiator, and the best I could do was go to a custom alloy job that was quoted to cost between $1200 - $1500, not including fitting. This was a little bit more than I was prepared to pay, plus the Pajero would be off the road for a few days whilst they measured it up for the fit which didn't suit me.
The obvious benefits of fitting the intercooler in front of the radiator is there is a reasonable amount of room, it would receive unrestricted airflow, plus it positions it in a less vulnerable spot than the factory position. There is room behind the headlights to squeeze some piping from the turbo to intercooler, and intercooler to throttle body, but if using 2.25 inch pipe I reckon there would be some metal working and cutting required to give sufficient clearance.
To make things more difficult for me is that I have fitted a custom made dual battery tray which sees the radiator overflow bottle shifted from the passenger side to the drivers side – which is exactly where the intercooler pipe work would exit out from behind the head lights. Not the end of the world, just meant I'd be using lots of bends to snake the piping past these obstacles and through the engine bay and back to the turbo and throttle body. With dual batteries the engine bay was already starting to look congested, plus I roughly estimated that the additional intercooler pipe work snaking through the engine bay could add another 500-700mm more than the factory set up. I really didn't want to add too much pipe work in fear of introducing too much lag or reducing throttle responsiveness.
Top mounted intercooler
– I know some people have had some great successes with TMIC's, but personally I'm not a fan. From my experience with previous cars with TMIC's they can heat soak badly and are only really effective once you get up to a decent speed to push enough air over the intercooler. I've also read that most factory style bonnet scoops aren't very effective at allowing enough air through to the intercooler anyways, so unless I was prepared to cut a large hole in the bonnet and use a big scoop then there wasn't much point. I didn't want to perform any permanent modifications on the car, so really this ruled out a TMIC from the start.
However, the obvious benefit of using the TMIC is that responsiveness and turbo lag is improved due to the minimal amount of pipe work between the turbo to intercooler.
Water to air intercooler
– I've used custom made water to air set ups for drag cars with good results. However W2A is fine for short durations of high loads, but can heat soak badly over longer period of high loads, which is exactly what happens when towing. I was a little nervous too with the thoughts of an intercooler failure down the track and water leaking into the engine. Obviously diesel and water don't go together well! I was a little turned off also having a W2A set up on my daily driver as I could anticipate regularly having to replace electric pumps etc as the thing would see a lot of use. Had I gone down this path, from my research I would have needed a water to air intercooler with a cooling capacity of at least 800hp and would have probably fitted the intercooler in the location of the factory intercooler. Fitting the intercooler in this spot negates some of the benefits of using a W2A set up as usually you can minimise the pipe work and locate the intercooler close to the throttle body. However unless I removed or cut the plastic factory engine cover (which I didn't really want to do) I couldn't see how or where I could fit the W2A intercooler closer to the throttle body in an already congested engine bay.
Partial front mount
– So with all the above comprises in mind of the other options I spent a lot of time laying underneath my Pajero with a tape measure, head scratching and measuring up the available space at the lower front section of the car. With the intercooler guard removed there appeared to be an opportunity to fit an intercooler at the front, but down low. I looked at many many different options and intercooler configurations that might suit, however there isn't much room at the front due to the front cross structural member and the radiator support panel.
I ended up deciding that I could shoehorn a V mount style intercooler that would sit at an angle between the cross member and radiator support panel. It would sit partially in front of the lower section of the main radiator, and partially below and in front of the sway bar. The downside was though that some of the intercooler would be blocked by the front cross member. One advantage with this design was that by adding a couple of 135 degree silicon hoses I could plumb the new intercooler into the existing factory intercooler hoses.
From memory the factory tube and fin intercooler core measured 350 x 180 x 63mm. I replaced this with a generic alloy V mount bar and plate intercooler that had a core of 460 x 280 x 76mm, it was considerably heavier too. This replacement intercooler wasn't massive by any standards but going by its basic core dimensions its surface area was roughly 2.5 times that of the stock intercooler. Even though its planned location meant it wouldn't be totally exposed to fresh clean air, I was still hopeful it would make a positive difference.
Stock Vs new
It wasn't easy fitting it because there wasn't very much room (and I won't bore you with all the fitting details), plus I was doing it in stages (whilst still using the car to drive to work every day). I'm pretty happy with the end result though as to how it fits and looks. Lifting the bonnet you can't see any change from factory, and underneath the car without the intercooler guard it looks reasonably neat. Within an hour, if I had to, I could take out the new intercooler and fit back the old intercooler – which is what I like about this option as well.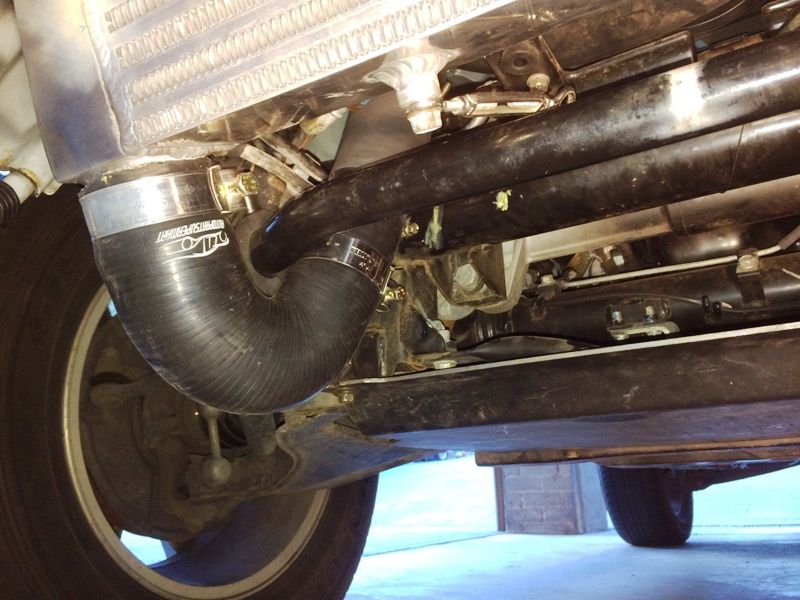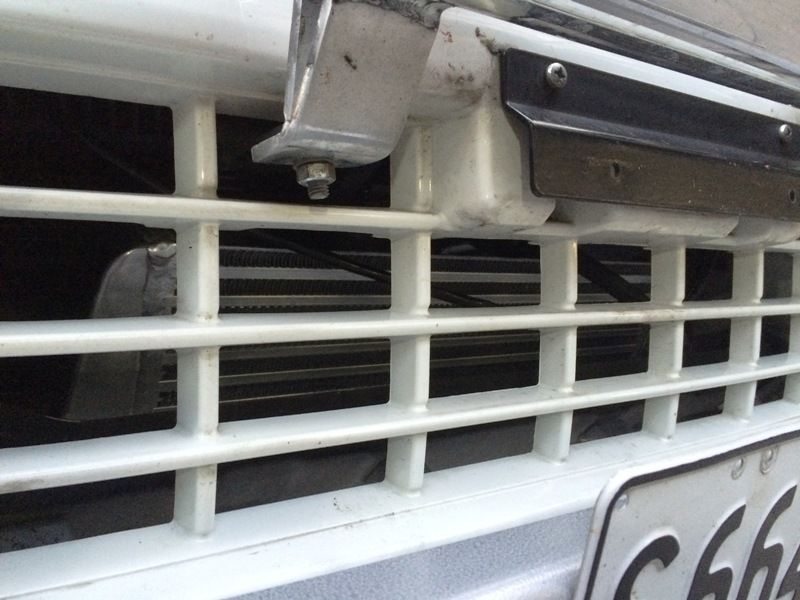 Obviously I had to make a new intercooler guard to suit. I chose 3mm plate which I've reinforced. I know some may not be keen still having an intercooler mounted down low, however in the 10 years of Pajero ownership I've never smashed up the stock intercooler guard or the stock intercooler with the type of 4wding I do, so I had no issues mounting this one down low and protecting it with 3mm steel sheet. I tried as best I could with the intercooler guard design to funnel air up into the intercooler and sealing around the intercooler core to force air through it whilst the car was underway. I still maintained the same amount of clearance between the road and the intercooler guard as the stock bash plate (roughly 290-300mm). The top part of the guard follows the angle of the intercooler (25 degrees) with the lower section angled back at 45 degrees (not obvious in the pics). The guard sits further forward 60mm (at the worst point) than the stock guard but I doubt this will cause me any issues off road.
So how does the new intercooler perform? Well firstly there was no discernible difference in throttle response. I thought with a little more piping, some bends and a bigger intercooler the car may be a little less responsive. I honestly can't pick a difference with response between the bigger intercooler and the stock unit. My scangauge now shows max boost to 23 psi where previously I only saw 21.9 psi of boost. Obviously the less restrictive internal design of the bar and plate intercooler is responsible for this.
Generally inlet temps are a little more stable and slowly rise under load, compared with the stock intercooler inlet temps that rose quickly and significantly. There is minimal heat soaking at traffic lights and as a generalisation I reckon inlet temps are around (conservatively) 15-20C cooler in any given situation, than before the upgrade. This is a rough estimation as the inlet temps will obviously vary depending on the ambient temperature and driving conditions. Cruising on the flat at any speed the inlet temps sit around 7 - 12C above ambient. It does feel like it has a little more torque, but this could be a placebo effect on my behalf. At this stage there doesn't appear to be any impact on radiator temps either which was one of the primary reasons for mounting it where I did.
The cost of the upgrade was as follows:
• Intercooler (ebay) - $250
• Silicon bends x2 - $40
• T-clamps x 4 - $30
• Steel pipe - $20
• Steel for intercooler guard - $40
Total - $380 ish
Nuts ,bolts and other incidental bits n pieces I already had lying around at home.
This isn't the ultimate intercooler upgrade for these vehicles and, and I'm sure what I have done may not suit some. However it meets my particular needs in that it was a relatively cheap upgrade, I can convert back to the standard arrangement if need be, it has had a positive effect on the inlet temps, it looks neat and is not an obvious upgrade (unless looking) and to date there doesn't appear to be any downsides.
Hopefully this thread has been a help and gives people some ideas and inspiration to have a go at an intercooler upgrade themselves.
Cheers.